| | |
| --- | --- |
| For prisoners returning home, find resources that help navigate the rough waters of re-entry into community life. | For parents everywhere, Time Out radio podcasts give simple, proven tips to make parenting easier. |
| Read the most recent issue of Dharma Friends newsletter or review your favorite back issue. | For young adults, the latest letters from prisoners with advice they wanted "When I Was Your Age." |
| Anna Cox shares thoughts about violence and all that our children must endure. | Imagine how much we can do if we do it together. Volunteer here! |
| Donated inmate art is featured in our "Art at Large" Gallery. | |
Welcome to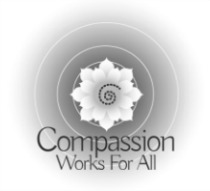 Give today and support hundreds of incarcerated individuals who can't access these resources on their own. Your gift to COMPASSION helps us produce and distribute newsletters, radio programs and updated resources for prisoners. Thank you for expressing your own compassion in this very practical way.
For Prisoners and Their Families
On this website, you'll find practical information and encouragement for those who are incarcerated, those who are re-entering community life and the families that surround them.
We teach compassion especially to the disenfranchised and those in prison, to offer healing and hope, transforming lives and communities.
For All Who Are Building Better Lives
Find activities and events, resources for personal growth, and volunteer opportunities that make a real difference in your own life. Check out our new Arkansas Bulletin Board and even newer National Bulletin Board which list events related to criminal justice, restorative justice and prisoner re-entry.